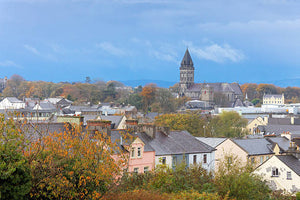 Sligo is a beautiful city with a lot to offer visitors. However, if you're not familiar with the area, it can be difficult to get around without a car. That's where taxis come in. Taxis are a safe, affordable, and convenient way to get around Sligo. Here are some of the reasons why travelling by taxi in Sligo is a safe option: Taxi drivers in Sligo are licensed and regulated by the local government. This means that they have met certain safety standards, such as having a clean driving record and being trained in first aid. Taxis in Sligo are...
---
Navigating the vibrant town of Sligo has never been easier, thanks to the array of reliable and efficient taxi services at your fingertips. Whether you're a local or a visitor, a 'taxi Sligo' search is all you need to unlock convenient transportation. In this guide, we explore the best options for Sligo taxis, including 24-hour taxi services and the top-ranked taxi ranks in Sligo. Tap to Call Taxi Round-the-Clock Reliability: 24-Hour Taxi Sligo There's nothing more reassuring than knowing a dependable taxi service operates 24 hours in Sligo. These taxis in Sligo are just a call away, even in the wee...
---
Sligo or as its know in Irish - Sligeach, meaning "A shelly place" is a coastal town and the largest town of County Sligo, Ireland, in the western province of Connacht. With a population of just over 20,000 in 2016 taken in the 2011 census, it is the second largest urban area in the West of Ireland, Galway being the biggest.  Sligo has rich historic, cultural, commercial and industrial industrial roots and is served by rail, port and roads. Sligo is a very popular tourist destination on the Wild Atlantic Way and has a wild and rugged coast which can be enjoyed all year round.  W.B Yeats the poet...
---
Sligo town is the capital of County Sligo, located in the North West of the Republic of Ireland and is the gateway to the North West and Northern Ireland.  The word "Sligo" comes from the Irish word "Sligeach" which means "place of shells". Sligo has seven beaches all within 10 km of the town. The beaches are as follows: Enniscrone, Streedagh, Strandhill, Rosses Point, Easkey, Mullaghmore, Cullenamore. Sligo is one of the nine counties located on the rugged and breathtaking Wild Atlantic Way  Sligo also has two large mountains over looking the town called Benbulbin and Knocknarea. Benbulbin is said to look...